Training for the
Validation Engineer
2022 is almost over, 2023 is approaching in leaps and bounds – and the planning of training content and dates for the new year is ready: The Rail Safety Campus will once again offer plenty of training courses! In these weeks we will introduce the new modules one by one. This time: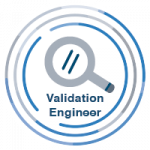 Validation Engineer Training
All safety aspects professionally in view

The five-day Validation Engineer training course takes into account the importance of the updated DIN EN 50126:2018 standard, shows the more strongly emphasized weighting of validation, and imparts sound knowledge in this regard. The requirements of the standard that are now in place are dealt with in the training and assigned to the corresponding concrete actions. Thus, it is not only "read" from the standard, but also discusses the necessary documents and procedures.
Based on two basic questions – What do I need for validation? And what do I need to deliver to complete a successful validation? – this Rail Safety Campus training covers all verification methods and activities in the context of validation. In addition, the interfaces to functional safety are considered and the understanding of roles is sharpened.
The door model of a local transport vehicle with a Selectron safety computer is available in the laboratory for practical implementation of what has been learned.
Additional content includes: Hazardlog and security features; strategies for saving time, resources, and costs without weakening necessary statements; validation plan; validation report; target statements; testing.
Ideal for aspiring validators, testers and safety staff who already have prior knowledge in the individual engineering areas and need to master the daily handling of safety-oriented tests and methodologies!
About the menu link
"Offer"
you can get a written offer, which you please sign and send back to info@safety-campus.de as a booking.
You already want the complete overview of the 2023 training courses and dates of the Rail Safety Campus? You can find all new dates here.
Questions? Feel free to contact us at info@safety-campus.de.